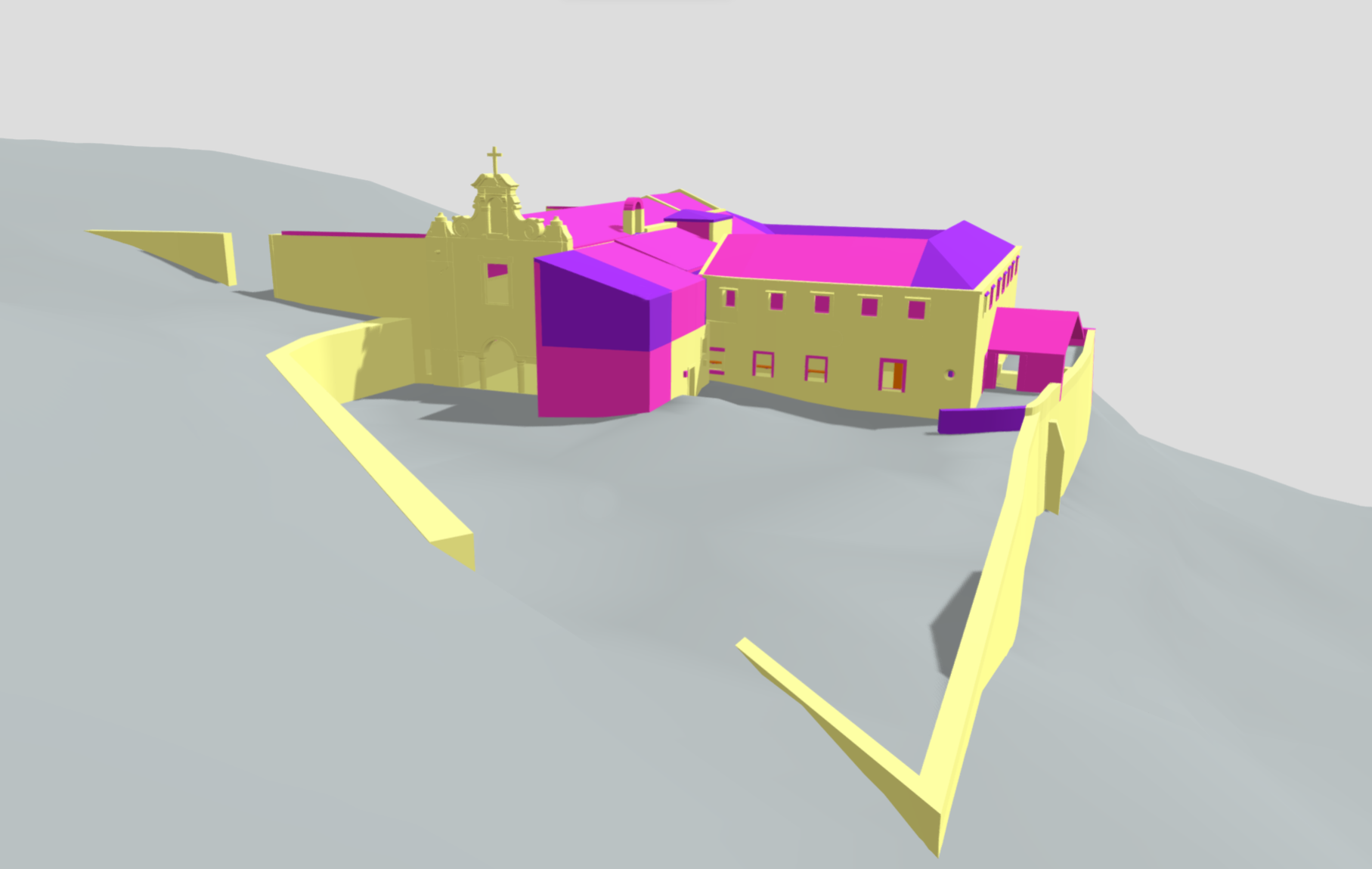 Digital Reconstructions of the Capuchos Convent in Alferrara
Thesis by: Inês Almeida
The use of digital tools for understanding, disseminating, and valuing historic buildings has been increasingly adopted. Located in the Serra da Arrábida, the Capuchos Convent of Alferrara was one of the historical buildings relevant to the history of the order of S. Francisco and the city of Setúbal. Despite its relevance, the available information is scarce and scattered, and there are no works that decode the convent, currently in ruins.
This dissertation proposes a digital reconstruction of the building of the Capuchos Convent of Alferrara, dating from the 18th-19th century, providing an integrated understanding of it, according to an information base that brings together all known mentions of the convent. This reconstruction includes the reconstruction of the plan drawings of all the floors of the convent, the decoding of the space-functional distribution of the floors, and the 3D modeling of the convent building and its immediate surroundings. Digital tools were used (e.g., CAD/BIM environments, laser scanning, aerial photogrammetry), and these were combined with the constant crossing of different sources of information. These include the collection of case studies and interviews with specialists, to establish a global characterization of all aspects of the convent, as complete and grounded as possible.
The digital reconstruction resulted from a cumulative process of information, describing in detail each of the steps and decisions involved in the process. In this way, the transparency of the work carried out was guaranteed, seeking to ensure that it constitutes a solid base of information about the Capuchos Convent of Alferrara.
https://fenix.tecnico.ulisboa.pt/cursos/ma/dissertacao/283828618790802
Digital reconstruction of the Capuchos Convent of Alferrara (18th-19th century).
Levels of certainty of the digital reconstruction (18th-19th century).
Acknowledgements to:
Associação de Municípios da Região de Setúbal (AMRS)
Fábio Vicente (AMRS)
Dr. Ana Paula Figueiredo
Landscape architect Telmo Pina